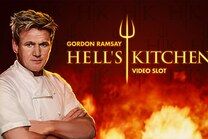 Netent's Gordon Ramsay Hell's Kitchen online slot, with an RTP of 96.07%, gives players a vicarious experience of preparing meals under the scrutiny of esteemed chef Gordon Ramsay.
The kitchen is intense with a foreboding background of dark blues and reds and fiery flames. Animated kitchen utensils travel across the 5 reels and 3 rows; the sounds of frantic motion amplify the exciting environment of 20 paylines.
The challenge consists of 2 teams that battle it out. Teams prepare Gordon Ramsay's signature dishes that range in complexity from simple at $0.20 to delicacies costing $20.00 per meal.