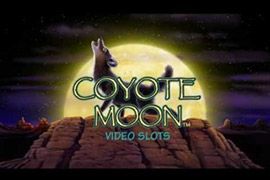 The Coyote themed game derived from two previous games, namely Wild Wolf and Wolf Run. It is a highly interactive five-reel slot game that has 40 pay lines. The RTP is between 92.5-94.8%.
It is a little below the standard average, but you can increase your chances by landing on more wild symbols. The symbols found throughout the game are naturally related to what a coyote might find in the wild.
You can expect to see a deer, cow skull, lizard, and hummingbird. There are more symbols in play, and these are the standard set of nine to ace. There are wild and scatter symbols to be found as well.
There is only one bonus round in this game which we will look at more closely below. The minimum acceptable wager is 0.1 and the maximum is 200 coins/credits per spin. The maximum payout is 1,000 per pay line.