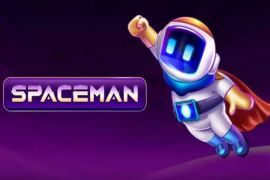 Welcome to the realm in the skies, where the astronaut Spaceman is getting ready to fly with your help. This video slot doesn't come with the regular reels, paylines, or rows.
Spaceman comes with an RTP of 96.5% with a maximum payout of 5,000x your bet. The bet size is placed between C$1 and C$100. As a multiplayer game, Pragmatic Play designed it not to pay if your Astronaut fails at a 1x multiplier. In addition, players can enjoy this game from their mobile devices.
There's an option to cash out once the astronaut has taken off. Two options are available, either the 50% cashout or total cashout. You can instruct the game to pay you the amount applied by the multiplier at your stage, or a 50% option can also be used.
These two options also come in auto modes. Players can pre-select when they want a payout for the auto modes, choosing a specific level. This option is great since there is usually a 100-200ms delay for manual cashout.