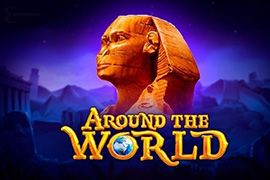 The reel window in Around The World sits in front of a picturesque collage of famous landmarks. You'll find further sightseeing opportunities within the five-reel, three-row game board as well.
Artfully rendered depictions of famous landmarks serve as the game's highest-paying symbols. During your travels, you'll have the opportunity to wager on up to 9 pay lines. Should you chance upon the savvy Adventuress, the trip could become an extended vacation with up to 15 free games.
Although the slot's core game is basic, its 96.03% RTP makes for a worthwhile destination at all levels of experience.